The Early Years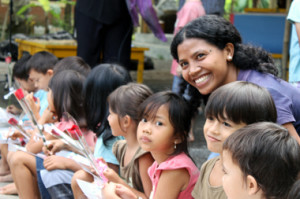 TINY TOTS – ages 1.5-3 years
PLAYGROUP – ages 3-4 years
TK A (Junior Kindergarten) – ages 4-5 years
TK B (Senior Kindergarten) – ages 5-6 years
Tiny Tots and Playgroup offer a purely play-based introduction to Pelangi. Our program provides children with the opportunity to interact with others in a safe and nurturing environment, whilst gently encouraging learning skills through creative play, music and movement.
Starting in TK A and continuing throughout TK B, the IPC EARLY YEARS curriculum is divided in to four strands:
Independence and Interdependence: focusing on childrens' personal, social and emotional development goals and their relationships with other children
Exploring: Students develop their skills of enquiry, and build their knowledge and understanding of the world.
Healthy Living: learning how to look after themselves and each other, also focusing on physical development.
Communicating: developing skills in communication, including speaking and listening, reading and writing, early numeracy work and the expressive arts.
The Early Years curriculum is delivered through thematic units, such as All About Me, Plants and Flowers, Family and Friends, in which each of the strands are addressed.  Pelangi School's belief in a holistic approach to education means that all aspects of childrens' development; academic, social, emotional, spiritual and physical, are important to us.  The IPC Early Years curriculum enables our teachers to deliver learning experiences that develop the whole child.
We nurture the imagination of our children using a variety of engaging media, art and crafts incorporating natural and recycled materials, music, song and out-door activities while gently and creatively introducing the foundations of numeracy and literacy skills. The children also learn the social arts of sharing, assertiveness and diplomacy within safe boundaries.