A natural campus just 10 minutes from Ubud
Pelangi School is blessed with a wonderful natural campus set amongst lush green rice fields under the shade of countless trees giving the school a close-to nature feel.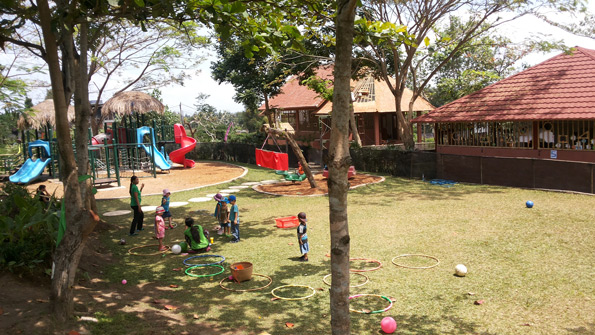 The classrooms have evolved from basic bamboo huts accommodating just a few students, to now boast purpose built school buildings housing classes across two stories, while retaining the natural and holistic feel from the early days. The campus stretches across 76 are that naturally undulate from the classrooms to the tree fringed play area and then step down toward the sport field, warung and school veggie garden.
The buildings were built with sustainable materials, airy and in harmony with the surroundings, inspiring the children to learn through nature and encouraging awareness of their environment.
Environmental studies are integrated into the curriculum in all subjects from Science to the Arts. Children are encouraged to learn responsibility for their own environment by recycling, reusing and reducing waste.
Students are taught to be aware of the importance of water and how to use it wisely. They learn to make compost and grow their own fruit and vegetables in the school's organic gardens, which supply the new School Café for its healthy, wholesome snacks and lunches.
Butterfly Breeding Program
It is a magical experience seeing amazing butterflies of all shapes and sizes flit around the Pelangi campus.  The process of attracting butterflies to the school was relatively simple.  Essential to its success, is planting appropriate flowers, plants and trees for the butterflies to feed from, lay their eggs on and for their caterpillars to eat.  This naturally attracts local butterflies to the area, therefore, increasing the butterfly population.
At first, a few butterflies were introduced.  Part of the breeding process is to collect cocoons at a certain point, put them in a secure box in classrooms, saving them from predators such as ants or praying mantis.  Students then enjoy the excitement of releasing butterflies back into the garden. The process is now self-sustaining with the importance placed on maintaining the trees and plants that the butterflies need to survive.

School visits are encouraged, feel free to try a snack or fresh juice, meet the kids and see their garden and school grounds. For a full tour and in depth insight into Pelangi School, please book with the office.